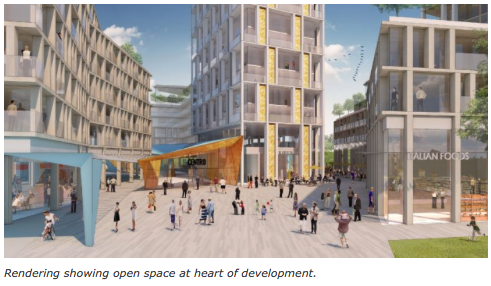 Cultural centres around the Lower Mainland are sitting on valuable, large plots of real estate, and Vancouver's Italian Cultural Centre is exploring a dramatic redevelopment proposal that will likely serve as a model for others.
The centre, also known as Il Centro, has been open since 1977, the result of 13 Italian associations banding together to build one centre.
After forty years of serving the community with everything from Italian classes to an on-site Montessori school, the centre requires millions of dollars of renovations and upgrades.
Il Centro approached several developers about exploring options for the site that would allow the centre to continue to serve the community from updated, state-of-the-art facilities, and make the centre financially sustainable over the long term.
They decided to work with local developer Bosa Properties and Henriquez Partners Architects.
Luca Citton, president of Il Centro, says Bosa was not only interested in working with the centre to redevelop the property, but also shared their vision for what it could become.
"It's not a secret to say, (the building) is 40 years old, and there's a lot of work to be done if we don't do this."
Nicole Riglietti, admistrator at Il Centro, says the proposal is a great way to keep the centre relevant to the younger generation.
"With this opportunity it will give us a chance to evolve and turn into something unique and amazing."
Initial plans include a theatre, recreational amenities, child care facilities, restaurants, shopping, open air piazzas, gardens, classrooms, a museum, kitchens, a library, a sub-dividable hall for receptions and events, and purpose-built rental housing.
The architecture will incorporate Italian influences in its design and materials.
Over the following decades, the centre's location at Slocan Street and Grandview Highway has become increasingly attractive. The Millennium Line SkyTrain runs past the site, and the Renfrew SkyTrain Station is located across the street.
Nearby is the Broadway Tech Centre, with thousands of employees working at BCLC, clearly.ca, the Vancouver Film School and others. Postmedia News, publishers of the Vancouver Sun, The Province and 24 Hours newspapers, will move into a new building this fall.
If all goes as planned, construction on the new Il Centro is expected to begin in Spring 2019, with completion in 2021. Members will vote this March on whether or not to proceed with the proposal.
No rezoning application has been filed with city yet. An open house for members is scheduled for February 18, from10am-2pm in the "Trattoria" at the Italian Cultural Centre.