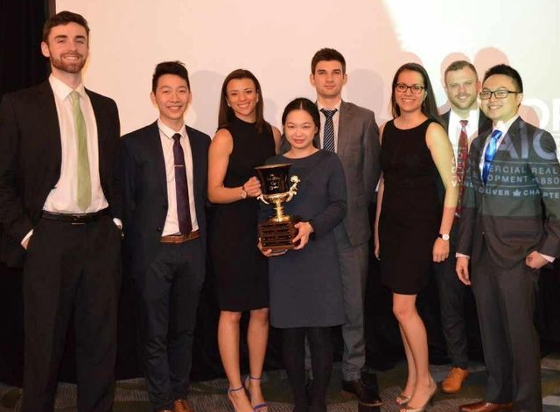 A Whistler Village-inspired design proposal for the Coquitlam Central transit station featuring a 55-storey residential "statement tower" and a public plaza earned a group of UBC students top prize at a real-estate competition.
The Pacific Northwest Real Estate Challenge, hosted by TransLink and Commercial Real Estate of Metro Vancouver (NAIOP) challenged teams from real estate programs at UBC, the University of Washington and Portland State University to come up with a mixed-use, master-planned community around Coquitlam Central Station.
The competition launched in mid-January and the student competitors presented their design ideas to a panel of judges this week. UBC last won the competition in 2015.
The UBC team's development, called Chrono, includes seven condo towers — one of which would be the statement tower — three rental towers, 47,000 square feet of office space, 136,000 square feet of retail and a public plaza on the north side.
Health and fitness, food and entertainment are the focus for the retail space. Parking would be hidden underground and the area would be pedestrian focused.
In keeping with the guidelines for the competition, the plan retains a bus loop (which would be covered in this design) and the stations for the Evergreen SkyTrain extension and West Coast Express.
It's a five phase development that would be completed by 2038. The total cost of the project is almost $2.7 billion.
Coquitlam Mayor Richard Stewart praised all of the designs — particularly their walkability — but said the UBC team's submission was his first choice.
"I really think that they've embraced some of the planning principles that we're trying to achieve in Coquitlam," he said.
And that 55-storey statement tower?
"Oh, my goodness. We do have to build some iconic elements and that's a key corner in Coquitlam where we're going to need something striking. That tower, that was neat," he said.
Guy Akester, director of real estate programs and partnerships at TransLink, called Coquitlam Central "a critical transportation hub" and said he wanted to help bring the competition to Canada for the first time because it was a great opportunity.
"From a really selfish perspective, I get all these smart kids coming up with really great ideas that we can then leverage in our own design process," he said.
Any development on the site is years away.
This summer, Coquitlam will begin the process of updating its city centre neighbourhood plan, which includes updating the land use for the area around the transit hub. It will take about two years.
At the same time, TransLink will continue to monitor transit usage so it has a better idea of how to redesign the site.
"It's really a bit of a wait and see for the next couple of years," said Akester.