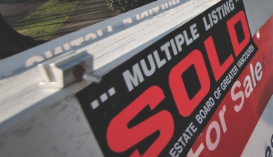 The British Columbia Real Estate Association is out with its fourth-quarter housing forecast, and it's predicting residential sales will decline by 10 per cent in 2018, after an expected drop of 8.8 per cent in 2017.
Association Chief Economist Cameron Muir says while demand is expected to be strong in the coming year, there are several factors he expects will temper that, including a rising interest rate environment and more stringent mortgage stress tests.
He says the supply of homes for sale is now trending at or near decade lows in most B.C. regions, resulting in higher prices.
But he thinks the combination of weakening consumer demand and a surge in new home completions next year will induce more balanced market conditions, producing less upward pressure on home prices.
But, the average residential price in the province is forecast to increase 3.1 per cent this year, and a further 4.6 per cent next year, to $745,300.